Galaxy S22 Ultra review – great mix of camera and productivity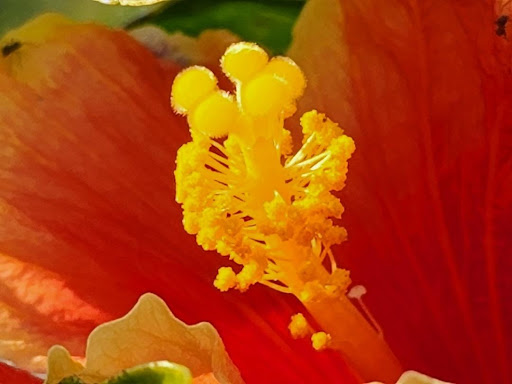 During Samsung's announcement of the Galaxy S22 phones, I tweeted that it's all about the camera. But after using the Galaxy S22 Ultra for the past few weeks, I've realized it's not just about the camera, it's also about productivity, thanks to Samsung's built-in S-Pen. If you're looking to upgrade your phone, these two should be very compelling reasons to buy a new Galaxy S22 Ultra.
Review not just testing, but experiencing the phone
I'm sure there are tons of Galaxy S22 Ultra reviews. Like many reviewers, Samsung sent me the phone well in advance. Instead of rushing the review with a few quick tests, I waited that long to share my insight only after using it as a daily driver for a reasonable amount of time. I am now confident to recommend it to anyone looking to upgrade to a premium 5G phone.
Distinct look and feel
All smartphones have a similar look these days, with glossy bodies and rounded corners. However, the Galaxy S22 Ultra stands out with its square corners, thanks to the design element borrowed from the Galaxy Note series. Its distinct shape makes it easy to identify when hanging out with tons of other test phones and family members' phones at home. The aluminum body with rounded side edges provides a solid grip, ensuring it doesn't easily slip out of your hands (I ended up dropping and breaking my old, similarly sized phone, S10 5G, with the slippery body, even before buying the case).
Bright display makes outdoor viewing enjoyable
Galaxy S22 Ultra's beautiful 6.8-inch QHD+ AMOLED display is perfect for viewing photos, videos, and other content. With up to 1750 nits of brightness and Vision Booster, it's the first-ever phone that makes outdoor viewing a pleasure. Being in sunny San Diego, my favorite activity is sitting in our sunny backyard, writing emails, reading and watching the news, watching YouTube, etc., mixing work and play. It was so painful to do this with my previous phones, but not more so with this phone. If you often use your phone outdoors, this is your best choice.
It's all about the camera
Have you ever thought that "over-killing is worth it?" Well, that sums up precisely what I thought of the Galaxy S22 Ultra's camera, with all the bells and whistles.
His low light "Nitography" shots are amazing. I've never had such clear night shots before with a phone camera. Sometimes the photos were even brighter and more vivid than what I could see with my eyes. Here are some of the pictures of my daughter and the color lit pool in our backyard. All images shown here were taken at night, with accent lighting only, and have not been edited other than cropping.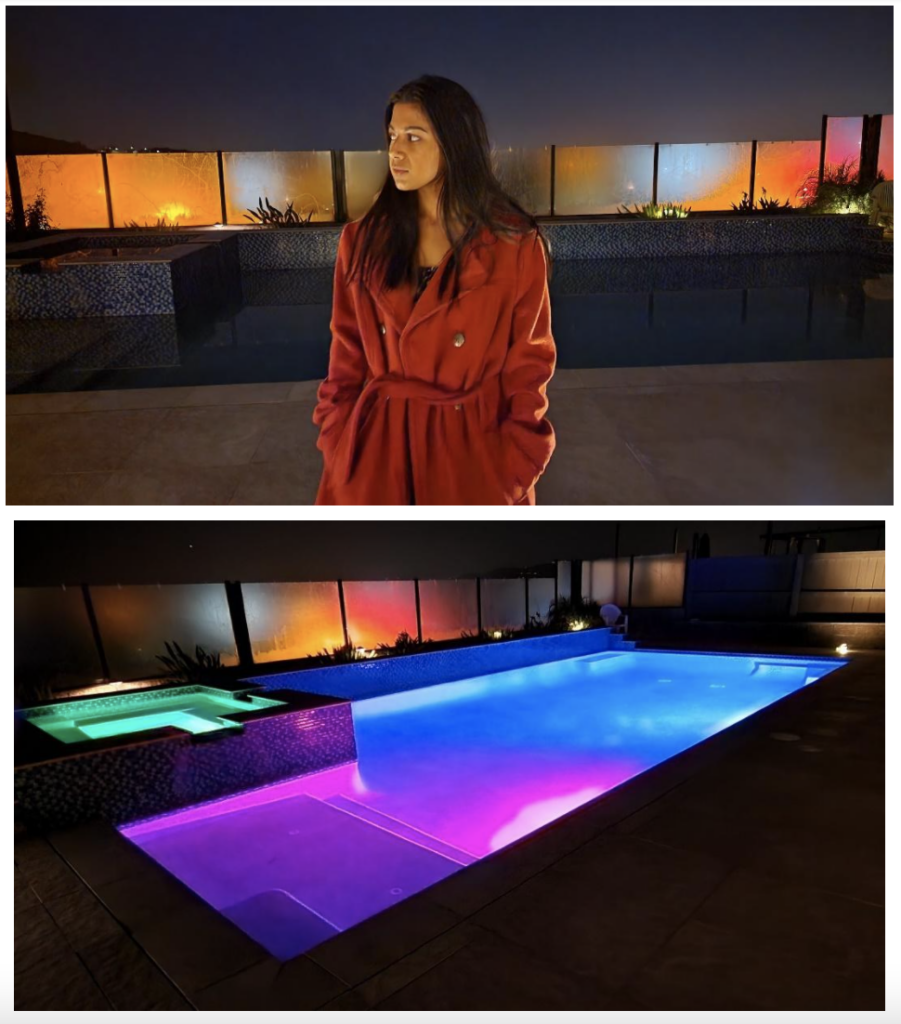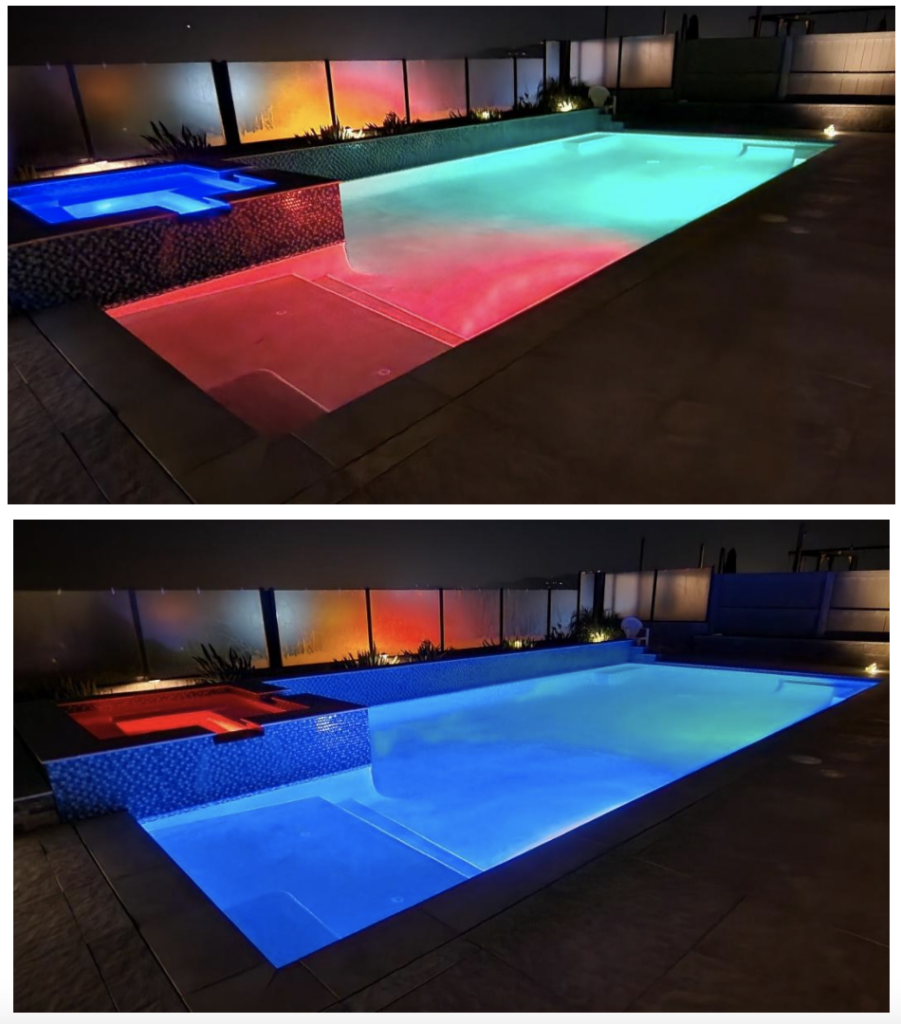 The massive 100x zoom is very impressive. But what shines even more when using the zoom is its image stabilisation. Even holding the phone in my hands (no tripod), I could zoom in and focus on the smallest of things. And the lenses are switched automatically when zooming. This road sign in the following image is over 850 feet away and the photo was taken with a 50x zoom. Text is clear, with minimal blur.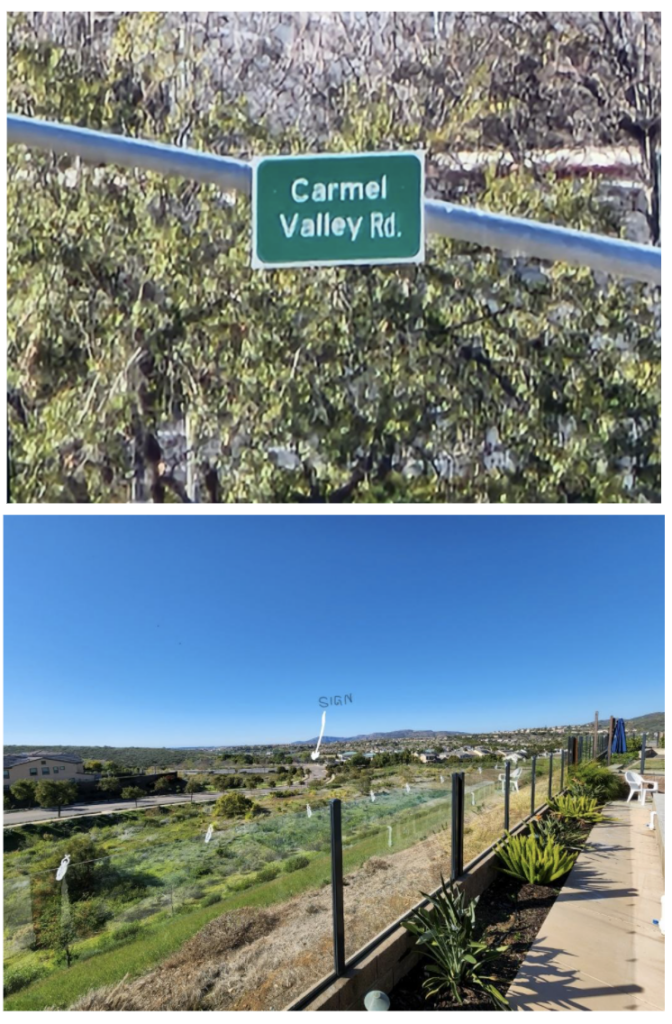 Image stabilization was also evident when I got a close-up of this flower, even when it was swaying in the wind.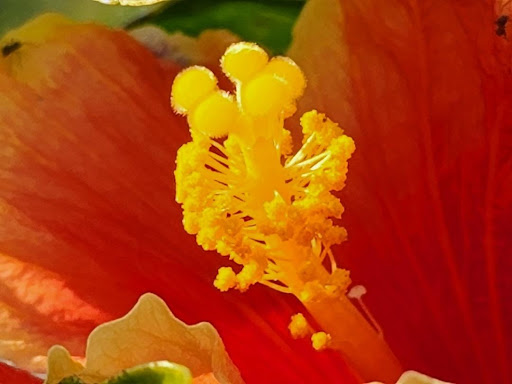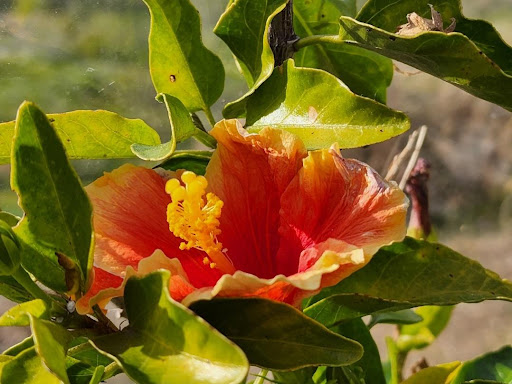 The biggest surprise was the Galaxy S22 Ultra's ability to take clear photos when the camera is facing directly into the sun. Here are some photos of that. The first was in normal "Photo" mode and the second in "Portrait" mode. You can see the sun shining on the top left edge.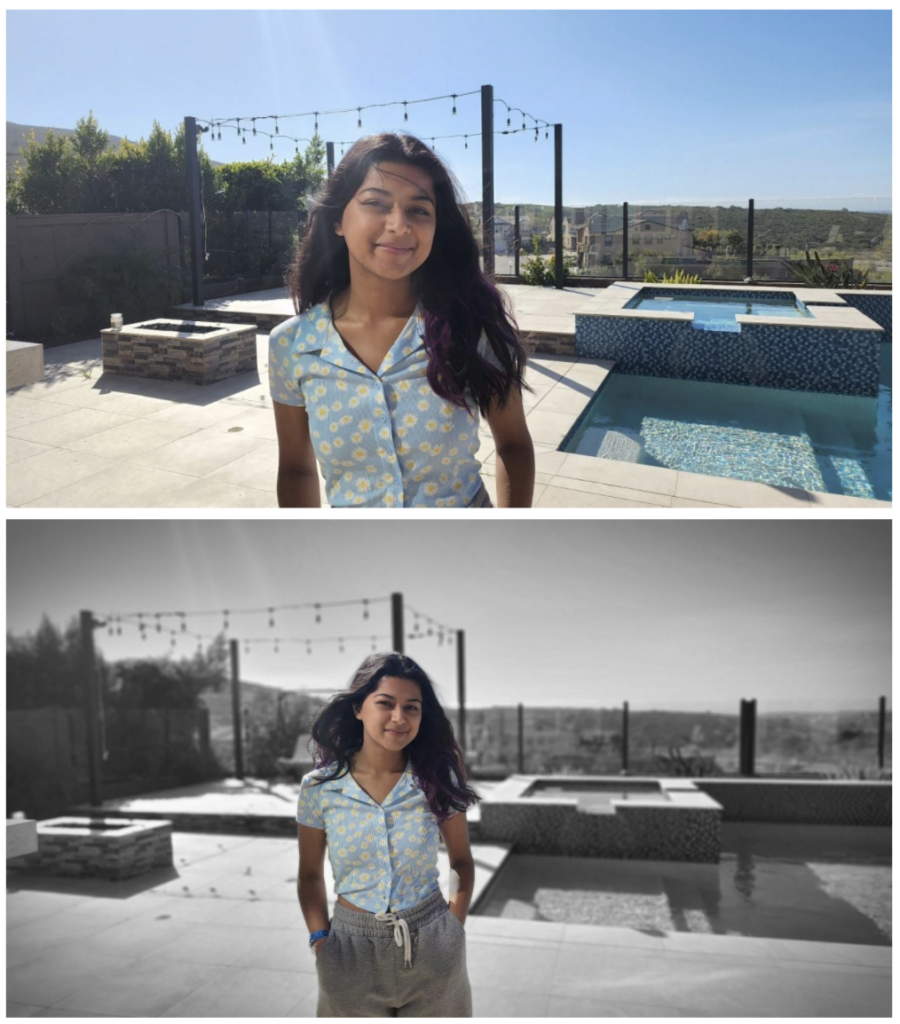 I haven't done a lot of video testing. But I believe that any camera that can take great photos can make great videos.
The Galaxy S22 Ultra comes with tons of built-in photo editing tools. I'm not a big fan of image editing, let alone the phone. But things like magic erasers come in handy for a novice like me. For example, removing the ugly plastic chair from this otherwise excellent San Diego golden hour image. Using the S-Pen makes this edit even more accurate.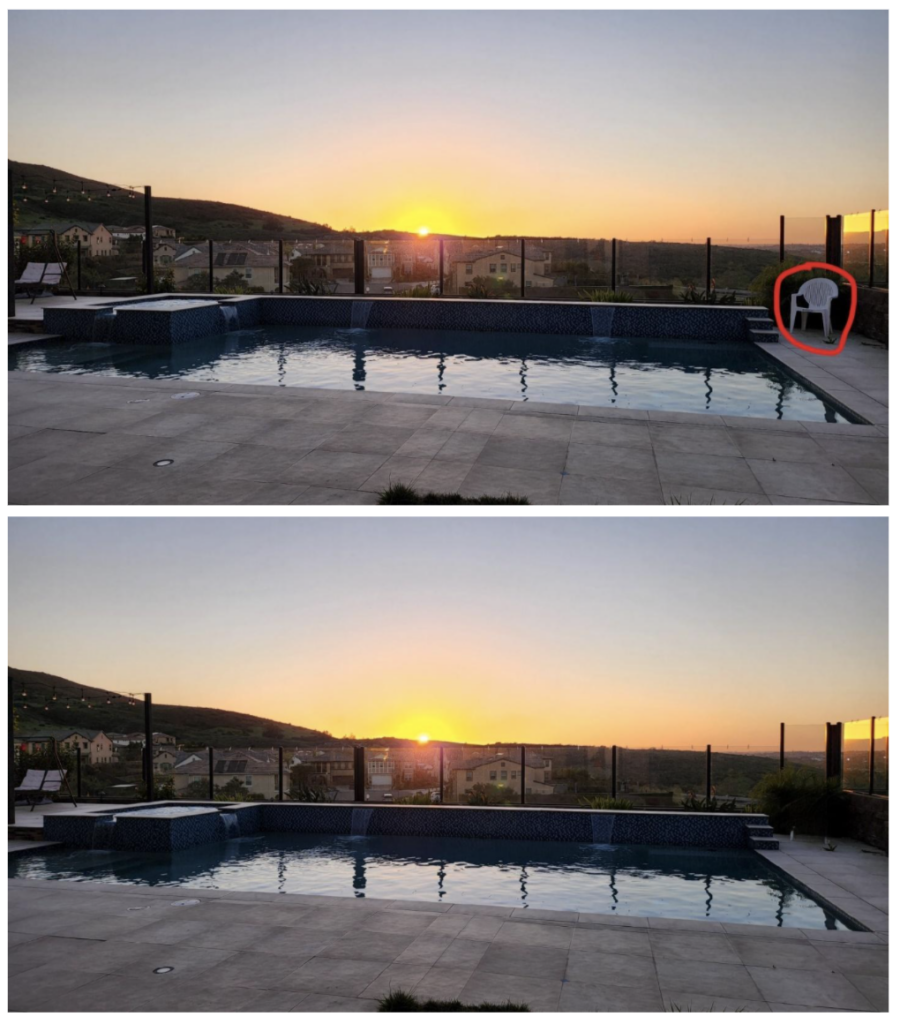 The Photo Remaster feature is great in theory, but I wasn't impressed with its performance. It only applies to the photos it chooses, and the improvements were barely noticeable.
The Galaxy S22 Ultra captures images in Multi Frame RAW format for pro-level editing. This edition requires a separate Expert RAW application which can be downloaded for free. But not being a pro, I didn't play with it.
To sum it up, the Galaxy S22 Ultra's camera is literally "point and shoot". You can get professional quality photos without professional skills.
The built-in S-Pen is the ultimate productivity tool. Its legendary note-taking ability now supports over 80 languages. I tried English and Hindi, both were fun to take notes on, and the app recognized my ugly handwriting and did the conversion quickly and accurately. The ability to easily annotate images or documents and share them with others is pretty cool.
I read a lot on the phone. Taking notes from what I was reading for later reference was tedious (taking screenshots or copying links etc.). But it's child's play with the S-Pen. I can mark what I need and quickly attach it to Samsung Notes.
The more you use the S-Pen, the more uses you will find.
Many useful features that people miss
The Galaxy S22 Ultra packs a lot of handy features that people don't realize unless they take a closer look. Support for eSIM and Dual-SIM are some examples. eSIM is a software-based SIM card that reduces activating a new cellular service on the phone to simply downloading the carrier profile (after signing up for the service).
The other related feature is dual SIM, where you can have two SIM cards from different carriers working on the same phone simultaneously. Dual SIM has been available in international markets for a long time, but was recently introduced in the United States. Both the eSIM and the physical SIM card make Dual-SIM setup possible on the Galaxy S22 Ultra.
My setup with the physical Google Fi and Verizon eSIM card worked perfectly on the Galaxy S22 Ultra as shown below. I get calls on both numbers and can choose either for data or to make calls.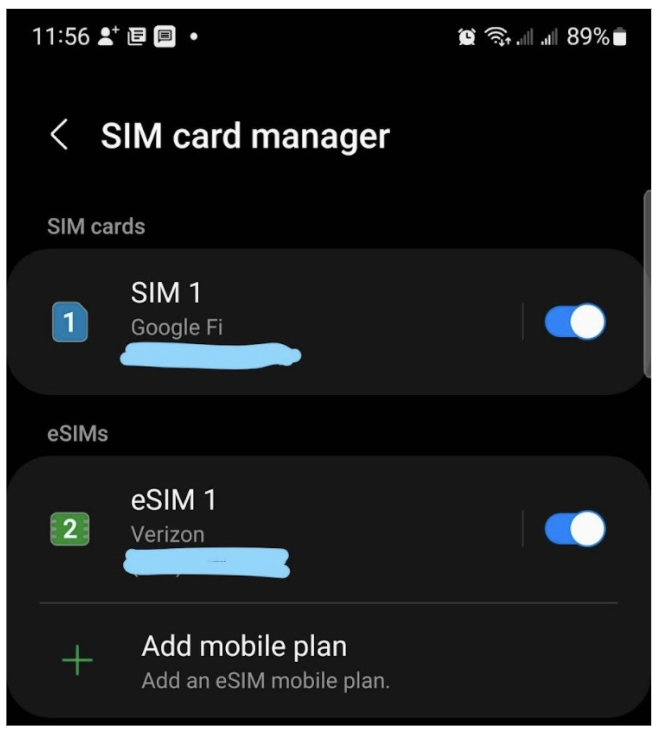 Dual-SIM is a lifesaver for frequent international travelers like me. I can continue to be available on my US phone number while using an international SIM card for data and local calls without paying exorbitant roaming charges. eSIM/Dual-SIM options are also available on the standard Galaxy S22, but I haven't tested them.
Other such features are seamless connectivity between Samsung devices and great integration with Windows11 laptops as explained in my Samsung Galaxy Book review. I use the phone entirely through the Windows Phone app when using my computer.
The high capacity 5000mAh battery provides long battery life, over a full day, but also makes the device a bit bulky. The 45W ultra-fast charging is very useful, especially for long working days or for extended reading or video recording. However, the charger must be purchased separately.
Being a wireless engineer at heart, I couldn't miss testing the wireless connectivity of this phone. I got download speeds over 4 Gbps in limited mmWave coverage areas and speeds of 100 Mbps in mid-band coverage area.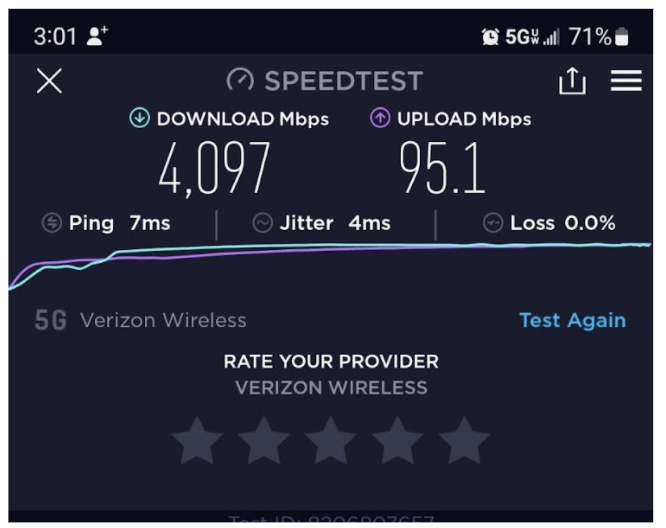 Some shortcomings
I would be remiss if I did not point out some of the shortcomings of the phone. The much-publicized throttling issue appears to have been resolved with the software update. Since I'm not a big gamer, it didn't really impact my experience.
The large size, thickness and slightly heavier weight of the Galaxy S22 Ultra make it difficult to use with one hand and to store it in the pockets of skinny jeans impractical. This may not be a problem for regular Note users. But since this is a premium Galaxy S series phone, people who don't care about S-Pen functionality might think the thickness and weight aren't worth it.
The face unlock feature is also less than stellar. It takes too long or doesn't work if there isn't enough light on your face. Of course, unlocking doesn't work when you're wearing the mask. Also, there is no microSD card slot.
In conclusion
The Samsung Galaxy Galaxy S22 Ultra is a worthy upgrade to your next premium 5G smartphone. It packs tons of features, a great camera, and an S-Pen productivity tool. Highly recommend if you can afford the price.
In the meantime, to read reviews like this and get up-to-date analysis of the latest mobile and tech industry news, sign up for our monthly newsletter at TantraAnalyst.com/Newsletter, or listen to our Tantra's Mantra podcast.