Body camera footage of moments after ex-deputy shot Arkansas teenager Hunter Brittain shown publicly for the first time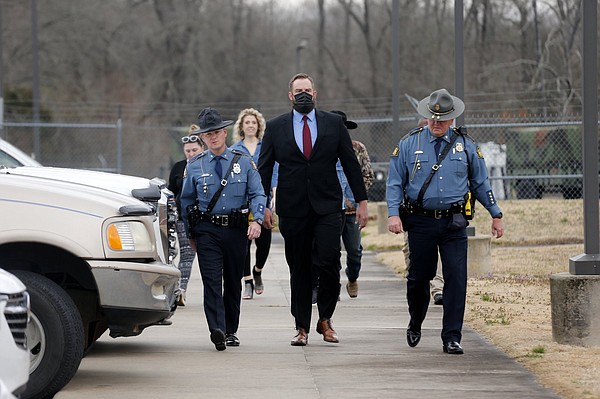 Body camera footage of a former County Lonoke MP showing the moments after he killed Hunter Brittain was seen publicly for the first time at the MP's hearing on Tuesday.
Davis was charged with manslaughter after Brittain's morning shooting during a traffic stop on June 23.
"The guy jumped off the fucking truck," Michael Davis can be heard saying in the video. "Grabbed a ****** oil can."
He also yelled at a 16-year-old passenger and asked why the two were driving the way they did.
Images of the returned Brittain's body were shown, prompting several family members to walk out of the courtroom. Others sobbed silently.
A few jurors patted their eyes.
The video ended with Davis sitting alone in a police vehicle, audibly crying.
The body camera footage was shown by Special Prosecutor Jeff Phillips during his examination of an Arkansas State Police special agent who led the investigation.
Davis was fired by Lonoke County Sheriff John Staley a week after the shooting for violating a policy that requires the body camera be turned on before deputies interact with the public.
Opening statements and the first witnesses were called after a jury was seated in the trial.
The anonymous jury includes at least two members who have family in or have worked in law enforcement.
Davis faces up to ten years in prison if convicted. He is the third law enforcement officer to stand trial in the state for a shooting involving an officer since 2005.