A smart stereo camera uses Sony wireless camera modules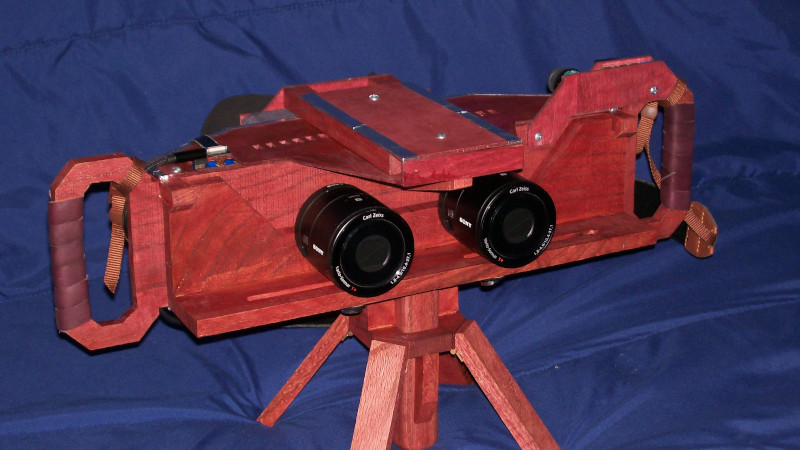 Stereophotography cameras are hard to find, so we are indebted to [DragonSkyRunner] to share their construction an example of exceptional quality. A stereo camera has two separate lenses and sensors at a fixed distance, so when the two resulting images are viewed individually with each eye, there is a 3D effect. This camera takes two individual Sony cameras and mounts them on a well-designed wooden chassis, but that simple description hides a much more interesting and complex reality.
Sony has already tested the photography waters with the QX series – a pair of unusual mirrorless camera models that consisted of only a sensor and a lens. A wireless connection to a smartphone enables display and data transfer. This release uses two, with a pair of Odroid C2s running Android for smartphones. Their HDMI video outputs are captured by a pair of HDMI capture devices connected to a Raspberry Pi 4, and there are a few Arduinos that simulate mouse inputs to Odroids. It's a bit of a Rube Goldberg device, but it allows the system to use Sony's stock software. A particularly nice feature is that the camera and display unit can be separated for remote photography, making this an extremely versatile camera.
It's good to see a stereo camera designed specifically for high quality photography, the previous ones we've seen were closer to machine vision systems.